Bahia 21 is an expert in high technologies applied to software. At Bahia, we can handle all kind of software from firmware to PDAs and large applications such as the one we are working on for Health Management System.

TACT.OP is an example of the Bahia 21 software/hardware skills used in the field of security. Tact.op is essential element of a complete wireless system for areas survey and inter-guards communication.

Video and voice are secrurely streamed from IP cameras trough a wireless network to each Tact.op. Its microphone sends and receives encrypted voice as well.
Key points:
Real time video streaming from private network

Real time encrypted voice communication

Alerts broadcasting
Internet police and organisations connection
Hands free use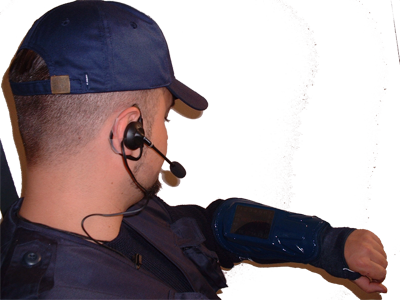 Medical Tact.op and Hospital management software
Medical Tact.op
Medical Tact.op is a delclination of our Tact.op communicator in the field of hospital environnment.
Key points:
High tech PDA with high resolution screen

Portability by attaching to the user's arm

Runs on LINUX or WINDOWS CE software
Hospital Management Software
Key points:

PMSI: connectivity between different departments of a hospital

Modules, which include just the patient record

Modules, which include prescription and patient records